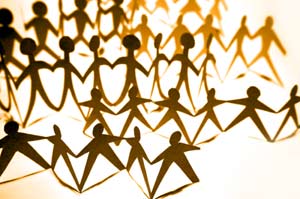 "Raise your eyes and see !
They are gathering all of them,
They are coming to you"-Isaiah 60:4a
"Standing on the parted shores of history,
we still believe what we were taught
before ever we stood at Sinai.
that whereverever we are,it is eternally Egypt
that there is a better place,a Promised Land;
that the winding way that passes through that promise passes through the wilderness
that there is no way to get from here to there
except by joining hands,marching
together."-Michael Walzer
Held within the Ahavah Rabbah prayer in the morning Sacharit service are these beautiful words:
"Gather us in peace from the four corners of the earth and lead us upright to our land,For you,O God,work wonders.You chose us.Truly you draw us near to your great name,that we might acknowledge you,declaring you one in love."
Living in an intentional community for the last four years I have to say while I say these words to not think of how they to me allude to those joys and trials expressed within community.Here are ways I feel these words witness to such:
"Gather us in peace"
One of the first things I learned in coming into community as a Southerner was one reality would always exist in community that I in my southern manners of holding what ill feelings I had in hoping the best the person would change.That I could not do that in order to have mutual peace i had to learn to be direct and not avoid conflict but tackle it head on. this required something out of me I had never done. I find it cool within this parshah Moses says that God would scatter Israel(28:64). I as a person had to make myself vulnerable to criticism but also brave enough to offer up my own as direct as possible in order to not have my boundaries as a person respected.This was not all easy at first but as time has went by it has become much more easier. I see this acceptance of the reality of conflict coupled with being direct about my own needs creating a mutual "gathering in" of not only the community but it allows the person to have more of a awareness of who they are bringing a sweet peace in a world that seems fueled by celebrating conflict rather then dealing with it.
"from the four corners of the earth"
As human beings we are scattered through our many social labels that divide us but community has a call much different. It exists to bring us together.In my early days in community I struggled with being accepted . You see within my household in my intentional community I am the first openly gay person to openly date.When I first came into my household I knew that I would I have to show I'm the complete opposite of any stereotypes of gay people they had. At first witnessing to my own difference was a little bumpy.I wouldn't have been accepted into the household if some were not affirming but even with those who are affirming you still have to open eyes a little bit more on the issue.As everything with time more acceptance happened my household became very much like family.They accepted me in becoming a Jew some where even present at my Beit Din.Besides me just being the gay Jew with my own diversity our household is inter-generational. I'm the youngest member at twenty-nine and the oldest member of our house is eighty-nine. Our combined life experiences are amazingly diverse.Two members of my household were present near Martin Luther King,Jr at the march on Washington,One member has had every job on the planet,one a former relief worker turned hospital chaplain and one a nanny. The table conversation are always fun but despite all of our differences our "four corners" we all come together we are all united in our responsibility to each other and that ultimate reality we experience in our lives together.
"upright to our land"
I find it cool that the word used here is "our" not "your" denoting that what we have when we are in community together is shared not greedily but mutually.It is ours it is something we make together as a group,as a people. It is both a laboratory and a temple that calls us to service to each while causing us too look,to see how we might change from within ourselves.It makes us "upright" but at the same time gives us a "land " from which to be affirmed within.A good example of this would be in how my housemates evolved passed just being roommates but to being family through time.In intentionally being together we had experiences that only we could have,inside jokes only we would know while at the same time being challenged through the gift of such intention.
"you,O God work wonders......truly you draw us near your great name.....That we might acknowledge you,declaring you one in love"
Through time I find myself praising the fact I came into an intentional community.It has changed me causing me to praise life in all of it's nuances as a gift.Intentional community helped me in many ways to find myself and my Judaism. Even though I live with a bunch of Christians I find daily we are in many ways praising the same way in striving to create harmony in the world around us declaring together yet differently that all are one.
So what does community mean to you?Where do you experience it? and how does it gather us all in?
Some questions to ponder:
What does community mean to you?
Where do you experience community?
How does community gather us all in?
An Affirmation:
This is a modern rendition of the excerpt above may we all be gathered in even more so into a community of harmony working towards the common good for all.This is done by the former Cantor of my shul.